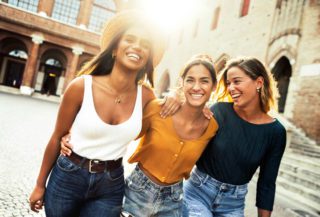 The true fun and excitement of living in a new place can result from indulgence, not cutting back. In many cases, you may be able to cultivate a superior lifestyle in a new country with less money. However, this does not mean that you should have to go on a forced budget. Living abroad is one thing. Living a happy life abroad well is the lifestyle that we want. Here are a few of our tips for being healthy, safe and happy abroad.
Employment Opportunities for a Happy Life Abroad
New technology makes remote employment more possible than ever. Many companies are beginning to understand the advantages of hiring remote employees, including lower overhead costs, higher productivity and increased reach into foreign markets. If you are coming from a country with a strong currency, ask to make a lateral move into a remote position. If you come from a country with a weaker currency, you may need to find new employment; however, there are many positions in the growing "gig economy" that can be worked from any location. Teaching English as a second language in non-English speaking countries is a huge opportunity for native English speakers.
Just as you learn languages that expand your ability to talk to humans, you should also learn languages that expand your ability to talk to computers. These languages include C#, Perl, Javascript, and node.js. There is no shortage of people who are looking for developers across the world. Keep your employment options high with crowdsourcing sites that allow you to market your skill set to the world. You can also set your own rates in the currency that you prefer. You work when you want as well, reducing the possibility of impossible schedules across global time zones.
Read: Working Abroad Guide
Smaller Town, Bigger Lifestyle
Developing countries such as Mexico, Panama, India, and Malaysia offer the same luxury amenities at a fraction of the price of so-called "first world" countries Canada, America, France or Germany. Any and everything that requires human labor costs less in a developing country. However, the culture of the larger cities in developing countries leaves residents wanting nothing. You can attend classical music concerts, rock shows, farmers markets, or other cultural events for a fraction of the cost.
The lower costs of living in developing countries will expand your overall lifestyle. You can obtain full houses in India for the price of a studio apartment in New York City. However, you may look to move into a more developed economy for better opportunities. If you have a skill that translates, there may be opportunities locally that pay at a higher scale for the same job. These skills include medical professional and tech worker.
Housing – AirBNB, HomeAway, and Other New Living Arrangements
The prevalence of online housing sites like AirBNB and Housetrip make for more competition in housing markets across the world. You may be able to get lower prices for your housing by using one of these sites. Additionally, you gain more insight into the local culture – AirBNB hosts are real property owners with locations in residential zones. You also have the ability to negotiate the price to a degree, which is usually not the case if you are taking the traditional route of a hotel.
If you are willing to take a chance, you may be able to work out even lower rates if you wait until you arrive on location. Even including new housing sites and online hotel marketing, you will find that most local property owners do not advertise online. Make sure that you know the language so that you can ask the locals about the hidden gems, which will probably be available at a discount.
Cheaper Health Care
Although you may be looking to make a permanent move, you can take advantage of how insurance companies define traveling to protect yourself with cheaper insurance. As a rule, Travel Health Insurance is much cheaper than Global Health Insurance. As long as the insurance company considers your country of origin as your primary place of residence, you can take advantage of the better rates. Note – coverage may also be less with a Travel Medical Plan.
Travel insurance is also a great option for people who have not yet decided on a permanent location. You can choose plans that will follow you across the world – no need to lookup an insurance company that is within the jurisdiction of a particular nation. Protect yourself from budget-busting accidents, political upheaval, or canceled airline tickets and more. Ensure that you have access to modern medical facilities even if you are visiting a country without this type of infrastructure.
Safety
The world is full of safe and unsafe locations, but there are very few territories that are completely one way or the other. In general, crime and safety correspond with the lifestyle and the location that you choose. The Internet is definitely great for crime statistics. Knowing the local culture of an area will keep you in its safer locations. For instance, expatriates to Honduras may generally prefer the amazing, quiet waterside lifestyle of Roatan Island rather than the more dangerous lifestyle of the capital city, Tegucigalpa.
See how your money spends in the area you are considering. Will you be improving your lifestyle in this new area? If so, you can begin research into the political stability of that area. Government corruption is just as important to consider as is a blue-collar crime. For instance, becoming an automobile driver in Nigeria may not be the best idea as opposed to in Ghana – the underground white economy in Nigeria is based partly on police extortion of drivers. Keep in mind, however, that the distinction of most countries as "first world" or "third world" does not have as much to do with the crime rate as you may think. The number one country for crime, guns and random shootings – America – is defined as a "first world" country
Reboot your life in a new location, recharging your purpose and optimizing your funds for a greater experience. The tips above will give you a good start. Keep your ear to the street, because new technology and new knowledge will bring new ways to improve your lifestyle. Don't just live abroad – be happy abroad!
Related: