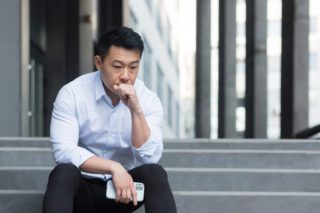 You've landed in Bangkok.  Your host insists upon a visit to the world-famous Khao San road.  Sensory overload hits as you walk down the sweltering streets.  You're surrounded by vendors hawking their goods, boozy tourists stumbling about, neon lights, and little motorized tuk-tuks zipping around.  When you notice the deep-fried scorpions being wheel-barrowed down the street, selling at about 3 bucks a pop, you politely ask your host if you might return to your hotel.  For one day, you tell yourself, this is quite enough. You've just experienced culture shock.
Talk to an international traveler or expat, and they probably have a story like this one. Yes, new cultures can be exciting, but they can also be overwhelming.  Culture shock is the term for those feelings of stress and anxiety that arise, in the words of scholar Colleen Ward, from "the absence or distortion of familiar environmental and social cues."
The bigger the cultural distance between one's host country and home country, the more likely you are to be stung by cultural shock.  Just as scorpions and insects on the dinner menu may give a fright to Westerners visiting Southeast Asia, many visitors to the US are made uneasy by the ceaseless small talk of everyday encounters – why, they wonder, is the grocery clerk asking how my day went?
In this article, you'll learn more about what sparks culture shock. You'll also learn what HR professionals can do to protect their international assignees from this challenging experience.
Culture Shock
Ward writes that "unfamiliarity with any or all aspects of a new society" may cause culture shock. This includes physical, technological, climatic, political, legal, educational, linguistic, and socio-cultural differences.
Depending on the severity of the shock, the victim may experience stress, anxiety, and uncertainty.  At its worst, it may prevent the international employee from adjusting to the new culture. Instead, the foreign visitor may isolate socially or professionally and even abandon the assignment and return home early.
I recall, for instance, speaking to numerous international graduate students while attending the University of Florida.  Mostly from urban areas of China, one after another explained that the sheer smallness of Gainesville – a town of 250,000, mind you, that many referred to as a "village" – had left them feeling isolated and anxious.  Where is the organized chaos, they wondered?  And where is the mass transit?  Where, after all, are the people?
Research suggests that expatriates may experience a honeymoon effect when first arriving in a new location, but culture shock tends to set in within the first 6 or so months on assignment.  Many, but not all, are able to adjust and overcome their culture shock.  HR professionals play a big role in this adjustment process, however.  They help minimize the risk and severity of culture shock and provide the tools to manage the shocks when they come.
Step 1: Select Employees With Beneficial Personality Traits
Cross-cultural research suggests that culture shock arises most often in social settings. This includes interactions with co-workers, business partners, and customers.  It's in these moments when cultural differences are often most apparent, while an awkward social interaction is for many a dreaded scenario.
As we've seen, selecting the right employees for international assignments is the first crucial step to minimizing the risk of expat failure.  For instance, employees high in openness to experience are more likely to embrace unfamiliar environments and so are less susceptible to culture shock. Extroverted employees may also better navigate those potentially uncomfortable social interactions.
Similarly, HR staff can screen for the personality trait locus of control as part of the selection process for international assignment.  Locus of control measures the degree to which an individual believes that events in their lives are within their control. Among those with a low locus of control, by contrast, life is seen to be largely controlled by extrinsic events beyond one's control. Individuals high on locus of control are therefore more proactive in resolving difficulties and adapting to uncertainties.  Simple questionnaires like this one make it easy to screen for locus of control.
Step 2: Increase Opportunities for Social Connection
To better understand how HR staff can create favorable social environments for their international workers, consider the similarity-attraction bias. This conveniently titled theory predicts that individuals are attracted to similar others.  However, the bias also holds that individuals are repelled by differences in others.
Not all is lost, however.  A rather uplifting theory by the name of intergroup contact theory holds that in many situations, individuals interacting from very different backgrounds will come to like each more over time. The idea is that surface-level differences – such as the color of our skin or our accents – quickly fade from relevance. They are replaced by an increased focus on characteristics such as our deeply held values, beliefs, and attitudes.
Now, it's important to note that deep-level differences can disrupt budding relationships. For instance, foreigners may overcome the initial resistance to a host worker's accent but clash over differences of religion or politics.  Research suggests, however, that when individuals recognize important similarities, these increase likeability and cooperation even when differences remain.
For HR, therefore, reversing those initial feelings of anxiety and stress that arise from culture shock is partly a matter of increasing social interactions with host country nationals.  Indeed, research studies confirm that as these interactions increase, expatriate performance improves. This may initially best be done in a controlled environment in which trainers help home and host country workers to identify deep similarities.
Read Also: Expatriate Stigmatization: How HR Professionals Can Combat This Underestimated Challenge
Overcoming Culture Shock: Reframing Stress
You can also bolster your expats by helping them to manage stress induced by culture shock.  Once you've trained them, they can understand that stress is inevitable, especially on international assignments, and, surprise, it's also useful!
Accepting stress as inevitable is an important first step. Research shows, for instance, that when we simply give voice to a negative emotion, its negative impact on us declines.  By contrast, denying stress or increasing our anxiety by trying to erase it are counterproductive.
Once we recognize and accept the presence of stress – say, when meeting co-workers for the first time or entering negotiations in a new cultural setting – we can then use it to our benefit.  Stress, after all, is a powerful emotion, its energies quite literally coursing through the body. Now imagine redirecting that energy to positive ends.
How Stress Can Help
Consider one study evaluating public speakers.  Those speakers that embraced their nervous energies performed significantly better than those that tried to calm down. This first group leveraged their energies to speak with more charisma and focus.
Research shows that a little over 40% of people are like those strong public speakers, seeing stressors as a challenge that invigorates them. The other 60 or so percent label their stressors as a hindrance that they need to smother.  The second group not only experiences significantly more stress, but their job satisfaction and commitment to employers decline whenever stress levels rise.
That 40% labeling their stressors in positive terms, by contrast, see their satisfaction and commitment increase when stress levels rise. They also become better teammates, more altruistic in the workplace, and more engaged in socially responsible behaviors. (And, of course, better speakers.)
We can, consequently, learn to label cultural differences not as threatening, as sources of potential embarrassment or anxiety, but as opportunities to grow both personally and professionally.  In counseling expatriates to recognize that stress does not have to be negative and can even be beneficial, HR professionals can further help limit the pain of culture shock.

Compare multiple quotes and coverage options
Work with an insurance expert at no additional cost
Find the best global plan for your needs and budget
Cultural Distance or Cultural Dimensions?
Studies show that expats from China and Malaysia tend to experience fewer difficulties in Singapore than do foreigners from the Anglo-American world. The reason? Anglo-Americans confront a more novel culture in Singapore than do many immigrants arriving from China and Malaysia.
Consequently, identifying the degree of cultural distance between the host and the home country is key to understanding the risk of culture shock.  Yet, the extent of cultural differences is not always clear.  Some U.K. expatriates even report challenges adjusting to the seemingly similar US business environment.  One foreign staffer, for instance, expressed surprise at the cut-throat competition in the U.S. and the relative unimportance of personal relationships in American business.
Also Read: Best Places for Americans to Live Abroad
Frameworks for Cross-Cultural Understanding
Fortunately, there is a framework that HR professionals can use to measure cultural distance and learn what the risks are. More than fifty years ago, the Dutch scholar Geert Hofstede carried out cultural studies with tens of thousands of IBM employees ranging across 40 countries.  This led him to identify several dimensions on which cultures consistently differ, which cross-cultural scholars have been busy studying ever since. These include individualism-collectivism, hierarchy-egalitarianism, uncertainty avoidance, long-term orientation, and assertiveness (sometimes called "masculinity").
In the briefest of terms, individualists tend to act for themselves, while collectivists cooperate with their families, communities or other in-groups.  Hierarchical societies have a large power distance between those at the top of society (or organizations) and those below, while egalitarian societies distribute power relatively equitably.  Those high in uncertainty avoidance are less likely to take risks than their opposites. Finally, those high in assertiveness are more aggressive and motivated by material success, while their opposites show higher levels of modesty and respect for others.
Tools to Understand Culture Shock Potential
These cultural dimensions allow students of culture to quickly understand precisely how and to what extent a national culture differs from one's own.  For a great tool to assess cultural distances, take a look at Hofstede Insights. The linked material compares the United States, Ghana, and South Korea on each dimension. You can plug in other countries to get familiar with the tool. (Note: There are other sources that more reliably measure cultural dimensions, but none that are more user-friendly).
Cross-cultural training can be used to help expatriates understand each of these dimensions.  In addition, training can help prepare international employees for the specific cultural dimensions that they will face.  For instance, my own training in the Kyrgyz Republic focused on lessons for riding public transport – including the expectation that younger passengers would allow older passengers their seats.  My peers and I also learned that contrary to American expectations of quick business meetings, long "tea breaks" with colleagues were essential to building strong relationships.
Culture shock is a real risk. It adds to expatriate failures, early departures, and underperformance.  Yet it is not inevitable.  Organizations can begin by selecting the right people on factors such as high locus of control. They can further support their employees by providing pre-departure trainings. Finally, by providing opportunities to socialize with foreign nationals and by helping expatriates reframe stressors as opportunities for growth, expatriates can quickly go from culture shock to culturally intelligent.
Related Articles
About the Author
Dr. Thomas J. Bussen, with a Doctorate of Business Administration, JD, and MBA, is an Assistant Teaching Professor at Miami University's Farmer School of Business, and a former professor at the African Leadership University and the American University of Central Asia.  He is the author of several books, including Shaping the Global Leader and Compliance Management: A How-to Guide. His latest book, Enlightened Self-Interest: Individualism, Community and the Common Good, makes the case for a more inclusive and equitable professional mindset and is expected for release in 2023 with Georgetown University Press.
Sources and Further Reading
42 Worrying Workplace Stress Statistics, THE AMERICAN INSTITUTE OF STRESS, Sept. 25, 2019, https://www.stress.org/42-worrying-workplace-stress-statistics.
Brooks, A. W. (2014). Get excited: reappraising pre-performance anxiety as excitement. Journal of Experimental Psychology: General, 143(3), 1144.
Burger, J. M., Messian, N., Patel, S., Del Prado, A., & Anderson, C. (2004). What a coincidence! The effects of incidental similarity on compliance. Personality and Social Psychology Bulletin, 30(1), 35-43.
Forster, N. (1997). 'The persistent myth of high expatriate failure rates': a reappraisal. International Journal of Human Resource Management, 8(4), 414-433.
Grant, A. (2013). Give and take: A revolutionary approach to success. Penguin
Harrison, D. A., Price, K. H., Gavin, J. H., & Florey, A. T. (2002). Time, teams, and task performance: Changing effects of surface-and deep-level diversity on group functioning. Academy of management journal, 45(5), 1029-1045.
Lee, H. W. (2006). Perceptive of expatriation and cross-cultural adjustment. Journal of Global Business Management, 2(1), 22-30.
Lieberman, M. D., Eisenberger, N. I., Crockett, M. J., Tom, S. M., Pfeifer, J. H., & Way, B. M. (2007). Putting feelings into words. Psychological science, 18(5), 421-428.
Rodell, J. B., & Judge, T. A. (2009). Can "good" stressors spark "bad" behaviors? The mediating role of emotions in links of challenge and hindrance stressors with citizenship and counterproductive behaviors. Journal of Applied Psychology, 94(6), 1438.
Wang, C. H., & Varma, A. (2019). Cultural distance and expatriate failure rates: the moderating role of expatriate management practices. The International Journal of Human Resource Management, 30(15), 2211-2230.
Ward, C., Bochner, S., & Furnham, A. (2020). The psychology of culture shock. Routledge.