A Guide to Eating Well and Healthy Living for Expats in Malaysia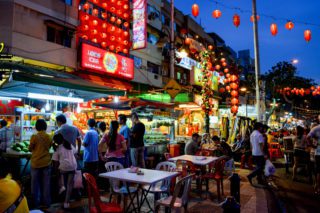 Malaysia is an increasingly popular destination with those who are looking to relocate for work and was recently ranked in the top 10 countries worldwide for expat social life and integration as well as for the quality of properties and healthcare available. Known as the gastronomic hub of Southeast Asia, Malaysia offers a vast array of international delicacies for expats to try – so it's worth knowing how to balance the indulgent with the nutritious when you're getting stuck in.
From keeping active and seeking out fresh produce to making the most of the country's healthcare system, eating well and enjoying a healthy lifestyle are easy to do in Malaysia. Here are a few things to try – and avoid – if you're relocating to this scenic country.
Healthy Malaysian Cuisine
24-year-old May, a Malaysian expat currently living in the UK, says that many expats moving to Malaysia wrongly assume that Asian food is much healthier than Western cuisine. "I think there's an assumption that all the rice and curry has to be healthier than Western food like burgers and kebabs. But Malaysia is home to all kinds of international foods, and there's plenty of deep-fried street food to catch you out, so it's important to learn about local food as well as eat it all!"
Breakfast Dishes
Malaysia's national dish, nasi lemak, is definitely delicious, and many people have it as their daily breakfast. Like many local treats, it isn't something you can eat every day if you're conscious of your health. This traditional meal consists of rice cooked in coconut oils (high in saturated fats), served with red meats, fried chicken, or fish. A portion of nasi lemak often adds up to around 1,000 calories and is heavy in saturated fat. While some saturated fats can be good for you, providing quick energy and boosting 'good' cholesterol known as HDL, the types found in nasi lemak are best eaten as a treat rather than a regular meal.
Instead of nasi lemak, start your day with thosai or congee. Thosai, known in Indian cuisine as dosa, is a sort of crepe made from ground rice and lentils. Traditionally served with a small portion of vegetable curry, thosai is a good source of protein to kick start the day. Congee is also high in protein, a savory porridge-like rice dish usually served with grilled chicken and vegetables.
Lunches
Almost anywhere in Malaysia, there are street food stands ready to sell you all manner of delectable cuisine. Sweet pastries known as kuih are dangerously easy to eat in a hurry but packed with enough sugar to see you suffer an energy crash later in the day. Likewise, little cendawan goreng – fried mushrooms peppered with barbecue seasoning – are a seriously tasty snack, but their deep-fried nature cancels out the health benefits of a bowlful of Malaysian mushrooms.
For a healthy lunch, try nasi kerabu. Consisting of fresh vegetables, grilled or steamed fish, boiled egg, and blue-colored herbed rice, nasi kerabu is a filling and balanced dish. The blue coloring of the rice comes from butterfly-pea flowers rather than artificial coloring and really brings out the colorful greens elsewhere in the dish.
Dinner Time
One of the best-known Malaysian dinner dishes, beef rendang, is also one of the most unhealthy. Rich, fatty red meat cooked in coconut milk makes for a meal that is as fattening as it is tasty. Try vegetarian versions using tempeh (made from soybeans) instead of meat for a healthier alternative. Likewise, popular nasi goreng, spicy fried rice served with pork or shrimp, can rack up calories in oil and salt.
Ikan bakar, literally meaning 'burned fish,' is a hearty portion of marinated white fish, flame-grilled on a banana leaf. Sweet, smoky and spicy, ikan bakar is popular across Indonesia and Malaysia – and you'll soon see why. Likewise, mee rebus noodle soup is widely available and contains far less fat than some of the heavier curry dishes. This dish of fish or chicken in a noodle broth sits at the saintly end of the nice-to-naughty spectrum.
Staying Active
Malaysia can be seriously hot, so you might not always feel like going for a run around the block when you need to burn off that sweet kuih. Choose workouts you can do indoors, in air-conditioned spaces, or get up early before the sun is at its hottest.
Yoga in the park makes the most of the good weather, avoid the heat by doing an early morning flow. If you're staying in Kuala Lumpur or along the west coast you can opt for an indoor workout. Indoor exercise is considered as good for the mind as it is for the body.
Simple things like walking instead of driving where possible will make a big difference, and if you're new to the area, there are a number of fantastic walking routes you can take to stretch your legs and familiarize yourself with some of the sights. A great way to keep active and cool at the same time is to utilize those pristine Malaysian beaches.
Healthcare in Malaysia
Malaysia has some of the best healthcare services in the world and attracts an increasing number of health tourists every year as a result. Expats will need to organize Health Insurance in Malaysia, but you can guarantee your health is in good hands when you do. Most doctors in Malaysia speak great English, so don't worry if you're still brushing up on your Malay.
Vaccines & Medication
Remember to keep up with any vaccinations you might need when traveling to Malaysia. The TMB recommends Hep A, Tetanus, and Typhoid vaccinations. Organize anti-malarial tablets if you're planning to spend time in forested inland areas. Between June and October, there can be high levels of air pollution in some regions caused by smoke haze. If you're worried about this, it's easy to find cheap pollution-filtering masks.
Expat May shared her insight, saying, "People might think that healthcare in Asian countries is not as good as Western healthcare, and for some countries, that's true – but Malaysian healthcare is much better than some of the services you'll get in Europe and America. Expats moving there should be celebrating – you'll probably be much healthier in Malaysia!"
Also Read: