Thinking of Co-Sharing Workspaces? These Are Your Must-Haves.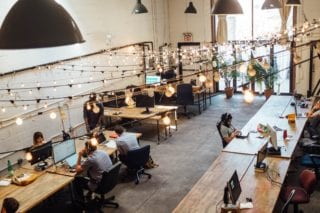 Globally, co-sharing office workspaces have grown by 200% between 2013 and 2018. Co-sharing isn't just a trend or a fringe part of the sharing economy. It's now a crucial part of the international economy. This kind of shared workplace offers a strong balance of practical services, user experience, and community development, and, as such, it attracts a diverse group of users and members. Occupied by a mix of independent workers and small firms, co-sharing workspaces are exploding in growth and popularity. But are they right for you and your business goals? This is how co-sharing workspaces work, what options you should be aware of if you're working abroad, and what your office space must-haves should be.
What Does Co-Sharing Look Like?
Co-sharing workspaces are usually defined as member-based work environments where diverse groups of freelancers, remote workers, and other professionals work together in a shared setting.
Most co-working spaces are owned by businesses that make running a shared space their full-time mission. They seek out buildings specifically suited to accommodate the varied clients they hope to attract. But in some cases, co-sharing workspaces can look very different.
Co-sharing can also happen when individual small business owners decide to sublet their own offices on their days off to others. This is a common practice among professionals like psychologists, counselors, people who work in studios like artists, and solo practitioners like lawyers or architects. Someone who sees clients 3 or 4 days a week might rent out their office to a part-time practitioner who can't justify renting their own full-time office. It's more of a subletting experience than a true shared space. Still, sometimes there is some overlap, like having a common relaxation space.
Why Explore Co-Sharing Workplaces as an Expat
There are multiple benefits to exploring co-sharing. Financially, it makes a lot of sense for small business owners and solo entrepreneurs. Leasing office space, even small properties, is extremely expensive. And when your business is just starting out, you might find yourself locked into a lease that's not ideal for your growing business. Co-sharing spaces are a flexible, affordable option.
The right co-sharing environment can also help your business grow. Being surrounded by other entrepreneurs is inspiring and, should you need advice, an expert is just a desk away. Many co-sharing workplaces also host networking events and guest speakers. They also offer professional resources like front desk staff and printing equipment that adds extra polish to your firm. A few are even situated at impressive addresses so you can officially claim your business operates on Wall St or Rodeo Drive.
Do They Have The Right Workspace For You?
Some co-sharing workspaces keep things pretty simple and just have one or two possible packages. Others have a host of options. They might include granting you and your large team 24-hour access or offering minimalist choices like 30 flex hours to use however you like throughout the month. Some co-sharing workspaces even have a virtual option. You don't get to use their physical space but you are part of their online community. That means you have access to different resources and you receive invitations to their networking events.
Ultimately, the choice is up to you. If you aren't sure what's the best plan, ask for a trial period where you're not locked in so you can upgrade or downgrade as needed.
Understanding The Lingo
At a co-sharing workspace, not all desks are created equal! A hot desk or flexible desk refers to any workstation that you can work from with no reservations. If it's free, you just sit down and get to it! This option is usually the cheapest but it's also rather impersonal.
A fixed desk is a reserved desk. It's been allocated to you. Depending on the setup, it's either exclusively your desk (and you can leave your mug and knick-knacks on it) or you have a schedule and share it with one or two other members.
A cabin space is like a mini office space within the space, one which is only accessible to you and your team. It's often a typical office suite but it could possibly be a semi-open space that partially cordons you off from the rest of the space but isn't 100% private.
Check Out The Amenities List
Sometimes you want nothing more than a desk, some coffee, and the chance to stretch your legs and chat with other entrepreneurs in the kitchen. But as your business grows, you might need a lot more amenities and services. For instance, having access to private onsight meeting rooms equipped with audio-visual equipment might suddenly become very important to you as your team expands.
Other important amenities include security staff (especially if you're taking advantage of overnight availability), IT support, printing services, parking options, back up power, lockers and storage facilities, and the support of virtual assistants, from front desk services to mail forwarding. Some co-working spaces boast wine and cheese nights and beer socials as perks of their membership. However, be aware that their rates will always be on the pricier side.
Do They Support Local?
There's an easy way to tell just how committed your co-sharing workplace is when it comes to supporting local businesses. Take a look at the kitchen – are they using a locally roasted coffee? Or do they lean more towards mass-market products? If a sense of community is important to you, you may not want a space that replicates the feel of a corporate environment. Other tell-tale signs of community support are locally made toiletries in the washroom, art from local artists on the wall, and using small enterprises, like microbreweries, for their special events.
Who's Responsible For Maintaining the Space?
You'd assume that since it's their building and their business, they are responsible for all maintenance and building upkeep. This may not be the case! If you and your company are using an entire floor of a building or renting out space for an event, you might be in charge of cleaning. Even community co-working spaces sometimes assign chores and other responsibilities to members. While some spaces expect normal wear and tear, others might hold you responsible for a broken chair leg or scratched table surface.
How is Their HR or Administrative Staff?
You might be a solo entrepreneur working in an unconventional environment but a co-sharing space is a business, one that works with dozen or even hundreds of other small businesses every day. How do they protect their clients and guests in the event that someone acts inappropriately? What recourse do you have against team members who make sexist or racist remarks? Having a human resources team or representative is no guarantee against bad corporate behavior. However, it is an encouraging sign that they are taking their responsibilities seriously.
Be Contract Savvy
You wouldn't sign up for a gym membership or lease a car without reading the fine print. The same goes for a co-sharing workspace. You want to look for what their terms are to cancel your agreement and other rules and regulations, like having guests visit. Are there fines if you break the rules? Is a trial period possible to allow you to get a feel of the place? Make sure you know what you're signing up for!
Related: