Moving to China? Best Places to Live as an Expat
The times where China was considered a third-world country are long past. Currently, China is one of the most modern countries in the world, with almost all of the everyday things you can resolve via your phone, especially payments. You can travel almost with the speed of light on the modern Chinese rail network, and as an expat, get a handsome remuneration for the work you do there.
Quite often, expats who relocate to China fall under two categories:
Corporate transfers
Expats who find a job in China themselves (for example, English teachers)
Whatever your circumstance is, you will most likely be placed or interested in living in the top-tier cities, where you can enjoy being able to find other expats, western restaurants, and English-speaking international clinics and hospitals in China, for example.
If you are considering moving to China and don't know where to relocate, this short guide is for you. Let's have a look at the most expat-friendly cities in China!
What is the China Tier City System?
When you move to China or start to research Chinese cities, at some point, you will hear the phrase "China tier city system." While not officially used by the Government, the Tier system is widely used by the media to classify Chinese cities as a point of reference. Currently, there are four tiers of Mainland Chinese cities, ranked by the city's population, economic opportunities, infrastructure, education, tourism, and population's income.
First-tier cities, Shanghai, Beijing, Guangzhou, and Shenzhen, represent the country's most developed areas. They are large, densely populated urban metropolises with substantial economic, cultural and political influence in China.
However, in recent years, so-called "new tier one" cities have emerged and are becoming increasingly attractive to both the local talent pool and expatriates looking for overseas work opportunities and the best places to live in China.
5 Best Cities to Live in China
In our classification of the best places to live in China, we considered matters that we know are important to expatriates when living abroad, which, among others, includes things to do, access to China's healthcare system, and cost of living.
Shanghai
As one of the tier 1 cities, Shanghai is widely known abroad as a popular tourist destination and China's top business center. It is also one of the largest in terms of population metropolises (24.4 million people) in the world, home to the maglev train and famous French Concession, the Bund, Nanjing Road shopping street, and more cultural aspects, City God Temple and Yu Gardens.
Shanghai is famous for various restaurants, nightclubs, cafes, bars, and shopping areas, offering a true big city life. Life in Shanghai can be on the expensive side, with a typical, one-bedroom apartment in the city center can cost around RMB 7,678 (approximately $1,182 USD) to rent per month.
In terms of air pollution, Shanghai and Beijing top the list of Chinese cities with the worst air pollution; therefore, considering these two places as your new overseas residence is something to think of.
Hangzhou
One of the "new tier 1 cities", Hangzhou is among the more peaceful places to live in China. Located approximately 100 kilometers from Shanghai, Hangzhou is home to a stunning West Lake – a UNESCO heritage site. The West Lake is a favored topic amongst poets and painters, with even Marco Polo saying that it is "the most beautiful place in the world." Hangzhou is also famous for its silk production and the birthplace of Longjing tea which is the most famous green tea in China.
Hangzhou, home to 7.8 million people, is a trendy tourist destination and a big education center, with 15 universities. A one-bedroom apartment in the city center can cost around RMB 3,473 ($535 USD), significantly less than in neighboring Shanghai.
In Hangzhou, you can find international hospitals where staff and doctors speak English, for example, Hangzhou North American Hospital of Zhejiang Hospital.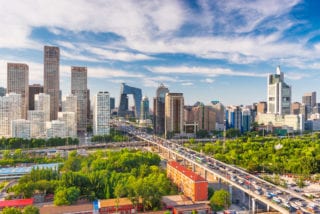 Beijing
Without stating the obvious, Beijing is the Chinese political, cultural, and educational capital of China. It is truly a melting pot of cultures, history, and modern architecture, giving Beijing an electric vibe. There are eight UNESCO World Heritage Sites in and around the vicinity of Beijing, including the Great Wall of China, the Summer Palace, the Forbidden City, and more. Besides history and heritage, Beijing cuisine is famously delicious, with the most famous dish being "Peking Duck" and other Chinese delicacies.
The city's transportation system is highly efficient, consisting of multiple lines of metro, buses, bike routes, and electric scooter rentals. It has a population of approximately 19.6 million people; this Chinese city is considered safe and surprisingly cheap (as long as you buy local produce or don't expect your waiter to speak English). Renting a one-bedroom apartment in the city center can cost you around RMB 7,344 ($1,134 USD). Healthcare in Beijing is on the top level if you choose one of the international hospitals. See our list of best expat hospitals in China for reference.
Shenzhen
Shenzhen is a relatively new city and for this reason, ranks as one of the best places to live in China. Back in the 1970s, Shenzhen was nothing more than a small fishing village neighboring Hong Kong. Since Shenzhen has been established as the first Special Economic Zone, the city has exploded economically and in size. What started as another manufacturing area, now Shenzhen is technological and one of the financial centers in China, having its own Shenzhen Stock Exchange.
While you won't see much of culture and heritage in Shenzhen, it is very modern and builds attractions from scratch for its citizens. One of them is the famous "Windows of the World," which features miniature replicas of the Egyptian Sphinx, or Eiffel Tower. Shenzhen Happy Valley is an adventure park; you can also go for a safari in Shenzhen's Safari Park or even go skiing if you like. Shenzhen offers almost everything in terms of entertainment one can think of.
Shenzhen's population is around 10 million people. You can conveniently cross borders to Hong Kong via metro line for a day or weekend trip. A one-bedroom apartment in the city center will cost you approximately RMB 5,670 ($873 USD). Food and drinks are also significantly cheaper than in neighboring Hong Kong, making Shenzhen an incredibly attractive place to live for local people and expatriates.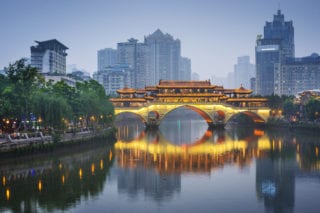 Chengdu
One on our list of best places to live in China for expats is Chengdu, the capital of Sichuan province. With the start of the Belt and Road, or new Silk Road trading initiative between China and other parts of the world, including Europe and India, the Chengdu-Chongqing cluster is well-positioned to become one of China's gateway between the world's economic and trade centers, bringing wealth and job opportunities to the region.
From a tourist perspective, Chengdu is famous for its Giant Panda Research and Breeding centers, where for a hefty fee (approx $300 USD), you can hug and be in close contact with one of the few left in the world, Giant Pandas. A specific view of Chengdu is the presence of teahouses on almost every street corner. Chengdu and the area is also an excellent place for history, religion, and heritage tours, where you can view Buddhist and Taoist temples. And those who like spicy food will feel at home, as the Sichuan province cuisine is famous for its numbing spiciness!
Renting a one-bedroom apartment in Chengdu city center is approximately RMB 4,476 (689 USD) a month. Living costs are relatively low in Chengdu, at least compared to the other big cities, making it a good choice for those who might want to save money or spend it on other pleasures rather than rent.
After Finding the Best Place to Live in China, Find the Best Insurance

Compare multiple quotes and coverage options
Work with an insurance expert at no additional cost
Find the best plan for your needs and budget
Related: