Welcome to June
In this newsletter, you can find the top 10 places to live as an expat family, understanding work visas in Spain, best places to live in Spain (I guess there's a bit of a theme here 🙂 ), and a chance to join a 20-minute webinar about how to select international health insurance. Don't miss out.
The number of American expats that decide to live overseas for good continues to increase through the years. The majority of them move to Canada, South America, Europe, and Asia. Here's the top ten!

If Spain is on your list of places to live, then you may wonder if you can also work there. Find out if you need a permit to work in Spain and the procedures for applying for your different types of Spanish work visas.

Dreaming about moving to Spain? Me too 🙂 Learn about the best places to live in Spain and why they made the list!
For EU citizens moving to France is easy, but here we outline what you need to know if you plan to move from the USA.
---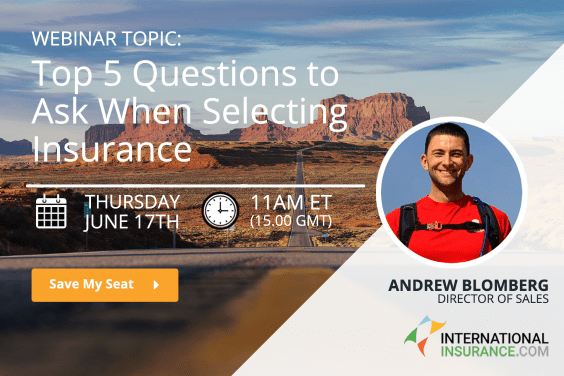 If you are thinking of moving abroad and need to purchase international health insurance, you will not want to miss this webinar. Or, if you are already abroad you can still pick up some tips for when you renew or are seeking new insurance.
Join our affiliate International Citizens Insurance and other wannabe expats on June 17th for a quick 30-minute webinar. It will take 20 minutes of your time but will save you so much more in the long run! In addition, there will be a 10 minute live Q&A at the end so bring your questions!
---
News You Can Use
Last year, according to TimeOut, Japan was ranked the second most popular destination to move to, so it's no surprise that the country also made the list in another recent worldwide survey on where people would most like to relocate for work.
Insurance Journal reports on the apps you may have to download to gain access to live events and other public places, including airports, ballparks, and concerts.
---
Best Health Insurance Plans of 2021
Are you wondering which health insurance company is the right fit? You can do your own research to find rates and insurance companies or review the best companies list and request a quote from International Citizens Insurance. Have them do the legwork for you!
---
Subscribe Monthly
Join thousands of people worldwide who are digital nomads, expats, retired, or just living abroad.
We'll send you a monthly newsletter with the best content for you.