The Ministry for Europe and Foreign Affairs report reveals where they are – and how many are returning home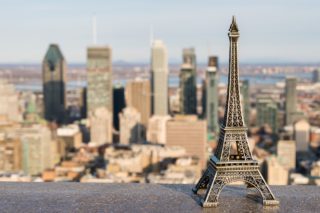 "Are the new neighbors speaking French?"
The answer is "very possibly." They might be among the nearly 3.5 million French people estimated to be living outside France as expats. Of course, this answer also depends on where in the world you live.
France's Ministry for Europe and Foreign Affairs (MEAE) has just released its annual report on French citizens living abroad. The report itself is huge (and in French). So, in this short article, we cut through the "officialese" to reveal the top ten most popular countries for French expats in 2020. We'll pick out the trends for that year and investigate which countries gained in popularity as a destination and which might be losing their appeal for French expats.
French Expats Flee For Home During COVID-19
As of the 31st of December 2020, 1,685,638 French citizens were officially registered as expats. This number was 5.1 % lower than the figure in 2019, which made 2020 the third year in a row that the number of French expats dropped, after 2019 (-1.5%) and 2018 (-11%). 2020's drop can almost certainly be explained largely by the Covid-19 pandemic and its associated restrictions, as well as the reduced opportunities for intentional travel.
It's worth noting that although the French Government strongly recommends French expats register with them, many do not, especially in Europe and North America. MEAE conservatively estimates that more than 1,7 million French expats are not entered in its system, meaning that the total number of French expats living (more or less permanently) outside of France is probably closer to 3.5 million.
So, with no further ado, who are the winners – where are the top 10 emigration destinations?
The Top 10 Countries for French Expats
Belgium
Morocco
Israel
What Do We Know About the Top 10?
The top five countries in this list each host a community of over 100,000 French people. Put together those people are 40.3% of all French expats.
Countries numbers six to ten have more than 36,000 French expats each.
Altogether, the top ten countries represent nearly 60% (59.2%) of all registered French expats.
In addition, the top 12 countries alone (including #11 Algeria and #12 Luxembourg, with more than 30,000 registered people each) account for 63.2% of expatriates.
It is also interesting to note that the top 10 countries include: all of France's major neighbors, countries with strong historical and cultural ties to France (Morocco, Algeria, Israel and Canada) and the largest economy in the world (the United States).
These same 12 countries were also the most popular over past years, with only the rankings shifting slightly from year to year. This indicates that French expats' preferences for a new home have remained largely unchanged in recent times.
What Regions are French Expats Living In?
Populations varied from one region to another. Almost a third (27.9%) of registered French expats live in countries within the European Union. In greater Europe including non-EU countries like the United Kingdom, this number rises to 21.3%. More than 20% of French expats live in the Americas (North, Central and South) and 14.5% can be found in Africa (largely the North, both French-speaking and non-French-speaking countries). Asia-Oceania represents 8.1% of the register's population, which is roughly the same as those living in the Near and Middle East.
Although the number of expats dropped in the US and Canada, it rose in Mexico.
In Asia-Oceania three countries witnessed an increase in French expats: South Korea, Vanuatu and Cambodia.
All of the Baltic countries saw their French communities increase significantly: +10.3% in Estonia, +12.5% ​​in Latvia and +4.9% in Lithuania.

Compare multiple quotes and coverage options
Work with an insurance expert at no additional cost
Find the best plan for your needs and budget
How Did Brexit Affect French Expats?
The United Kingdom's exit from the European Union, on January 31, 2021, saw its French community drop by 2.3%. However, many of those who chose to leave did not return to France. Instead, their exit from the U.K. simply changed the distribution of the French expatriate community elsewhere, as they settled in either the European Union or the non-EU countries in continental Europe.
Repatriation: Coming Home Because of Covid-19
During the first outbreak of Covid-19, significant numbers of French expats chose to return to France, particularly after the French government offered them either a flight opportunity or financial help to do so. Perhaps, not surprisingly, the biggest movement of French residents occurred in Wuhan (China), where 42.5% of its resident French population chose to return to France in 2020. The government opened its first crisis unit, dedicated to the repatriation of French nationals and their dependents, in January 2020. Between January and February, four special flights repatriated French expats from Wuhan to France. Between March and June of the same year, another 370,000 French people were able to return to France from all over the world, of whom 240,000 benefited directly from a plan set up in conjunction with Air France.
Who Are the French Expats?
The Ministry's report contains some statistical information about French citizens living abroad, such as their gender, age, and (possible) dual nationality. The male to female split of French expats is almost equal: 50.1 % of expats are female and 49.9% are male. Their average age is 41.5 and 75% of them are over 18 years of age.
Further than that, the report does not clarify who the expats are or why they choose to live abroad.
However, other sources tell us that, in just over 50% of cases, expats' departures from France are motivated by professional reasons. Many French expats arrive in their new countries hoping to find better work opportunities, and roughly 86% of them work full time in their new land. You can find French expats in all types of jobs, but the top five areas are IT, finance, education, manufacturing and engineering.
French expats tend to be more highly educated than global expats. According to an Internations survey, 11% have a Ph.D. and 65% have at least a master's degree.
The French magazine Management asked French expats what motivated them to emigrate. The answers ranged widely. Some were what you might expect: because jobs are rare, because wages are blocked, because the hierarchy weighs upon us, because the taxman is strangling us, and because the apartments are too expensive. Other responses were purely personal and sometimes whimsical: because I'm having a mid-life crisis, because depression is contagious, and because I want to go where the grass is greener, the sun more present and the relationships warmer.
The family factor plays an important role in expats' decision to emigrate. French people mainly go abroad as a couple or as a family. 75% of French expats brought their entire families, including dependent children, to their new land. Almost 95% of French expats live as a couple and left France together with their spouse. Many French left France to be closer to members of their family, their spouse or even to discover their roots. In fact, a third of these expats are retirees.
Finally, perhaps now is the time to say "Bonjour!" to the new neighbors. They might fit the profile of French expats, but it's sure that their own stories will be as different and interesting as they are.