Advice on Eating Healthy from Around the Globe
Every country has at least one great health tip to take note of and adopt. We have compiled a few great tips that you as an expat are sure to want to include in your diet and routine. Check out the suggested tips and start taking advantage of them. Whether you are trying to eat right and exercise to live a healthy life or simply for beach season, get a few new suggestions to help your efforts!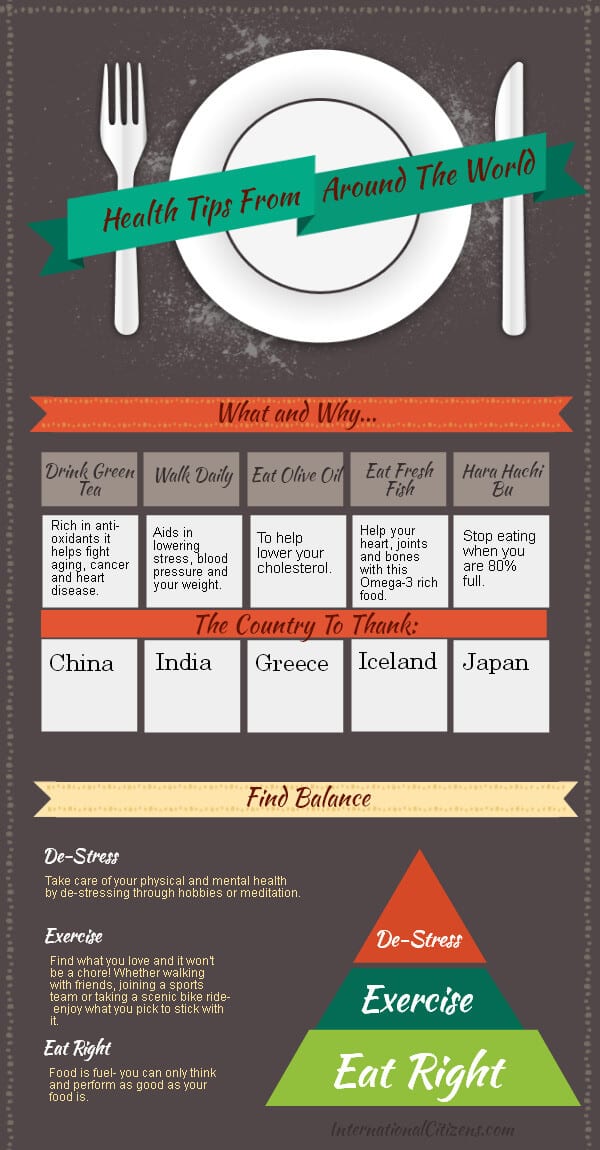 Just as families throughout a city or country have their own beliefs and ways of doing things, countries throughout the world have their own as well- especially when it comes to health. If traveling, you will quickly find that the answer to what will help individuals live a long, fruitful life, will vary depending on what country or region you are visiting. Find out what some of the most common health tips from around the world include, before your journey:
China
The Chinese have been drinking green tea for thousands of years to reap the various benefits that accompany this beverage. While many know that green tea is a great source of antioxidants that helps prevent the effects of aging, growth of cancer, and heart disease, it also has the ability to help prevent tooth decay and gum disease.
India
Obesity in India is not a common condition, one possible answer that explains why: the amount of walking in India. It's estimated that Indian women walk approximately 6 miles a day according to the Huffington Post. Along with helping to prevent obesity, walking can help lower blood pressure, the risk of getting diabetes, and stress levels.
Greece
Olive Oil can produce benefits when both eaten and applied topically. When consumed, olive oil can help lower cholesterol and control insulin levels. It is often included in beauty products but can be applied directly to skin and nails for moisture and to reap the benefits from the antioxidants the oil possesses.
Iceland
Those in Iceland have access to fresh fish any day of the year, however, this is not the only reason they turn to creatures of the water during mealtime. Adopting a diet high in fish gives individuals the amount of omega-3s needed to improve brain function along with heart, joint, and bone health.
Japan
In Okinawa Japan, the locals live by the rule of hara hachi bu: eating until they are 80% full. Since Okinawa has the highest number of centenarians in the world- they might just be onto something.
Related: What is the Cost of Living in Japan
Keep in mind that while studies show that these health benefits are typical of the above health tips from around the world, it's important to consult your doctor before changing your diet or exercise routine. While preventative measures such as eating well can be taken to help keep you healthy both when at home and abroad, accidents can still happen- make sure you are also prepared in the event that an illness or injury does strike by having reliable health insurance.
If you want more great information and tips for expatriates around the world check out our other available resources: