The Best Destinations for Public Transit Around The World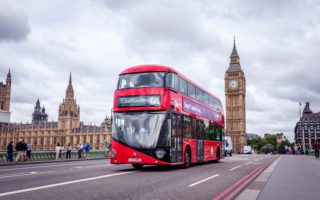 Expat life comes with a lot of costs and many adjustments. Finding a job, finding a house, meeting new friends, and getting settled in are top concerns for expats. Thankfully, in many cities around the world, public transportation is one thing that foreigners don't have to worry about at all! Affordable rates, efficient networks, and comfortable settings mean that buying a car and stressing about long commutes are unnecessary. Plus, a great transit network makes for easy exploring. These five cities are leading the way in prioritizing public transit, making them the perfect destinations for expats to check out!
Hong Kong
Hong Kong's public transit system is nothing short of spectacular. Its metro system, in particular, is consistently ranked as the best in the world. Users love its immaculate cleanliness, color-coordinated station tiles, air-conditioned trains, tactile flooring, and Braille signage to make it more accessible.
A whopping 75% of Hong Kong's population lives within one kilometer of a subway station. This is a real perk for expats who want to get around the city with ease and not worry about having a car. Those who live more than one kilometer away aren't stuck. Hong Kong's metro is only one component of the city's public transit system.
The city also has a huge fleet of double-decker buses and trams (which are known as "ding-dings"). As well, the Star Ferry which traverses Victoria Harbour arguably offers the most scenic commute of all. All these options add up to about 12.6 million people using the transit system every day, yet the network maintains an incredible 99.9% on-time rating. All things considered, Hong Kong's public transit is really affordable. Transit fares range from $.50 to about $7.50, depending on whether you're taking a short ride or heading across town and into the suburbs.
Overall, 83% of Hong Kong residents report that they are satisfied with the city's public transit system. However, international citizens should note that getting around Hong Kong does take some getting used to. This is a large, complex system. Study up on the rules and routes in advance. Don't hesitate to recruit a local friend to come along for your first few rides as you get a sense of the city's rhythm.
London
London's Underground (also called "The Tube") is one of the world's oldest, largest, and most widely used subway systems in the world. The city has had some form of underground train-based transportation since 1863. Today, the Underground carries some five million passengers a day.
The Underground is just one of many public transportation services in London. The city also offers light rail, connections via traditional trains, and buses (a bargain at £1.50 a journey. You can hop on as many buses as you like for 60 minutes after you first pay, a great deal for anyone looking to run quick errands). London also has a small tram network, the Emirates Air Line cable car service, and the Thames Clipper riverboat. Most rides on these services can be paid for using the Oyster Card, an all-in-one transit pass. The Oyster Card sets daily and weekly price caps so you can travel extensively and never spend more than a set amount.
85% of Londoners report being satisfied with the city's public transit network but most will also tell visitors and new residents to remember to walk! Many of the central London (zone one) transit stops are so close together, it's cheaper and easier to just quickly walk between them.
Zurich
Switzerland has a reputation for efficiency and effectiveness in all of its public services. Nowhere is this so evident than in Zurich's public transportation system. The city's trains, trams, cable cars, and boats are remarkably clean. The staff and conductors are multilingual and fares are very affordable. Plus, the system couldn't be easier to use. On average, there is a tram or bus stop every 300 feet, complete with a transit map and a ticket machine.
The city also boasts a free public bike program. For a refundable deposit and presentation of your identification, you can have free use of a bicycle for the day. However, on the opposite end of the price spectrum are Zurich's taxis. They're clean, comfortable, and get you to your destination in a timely manner. Alas, they're also some of the most expensive taxis in the world! Thankfully, with so many alternative options, taxis are rarely needed.
There are plenty of options for tourists as well. Visitors to Zurich can buy the Zurich Card City Pass, which includes free public transportation in addition to discounted museum admission for 24 or 72 hours. Those exploring further afield should opt for the Swiss Travel Pass, which connects the inner city transit network to trains, buses, and boats that travel into the countryside.
Singapore
With its tech-savvy population, it's not surprising that Singapore's public transit system has been an early adopter of electronic services, including trip planning sites and apps, ticketing options, and contactless payments. The city's' MRT or Mass Rapid Transit system and LRT or Light Rail Transit system are fast, easy, comfortable ways to get around the city. Plus – they're climate-controlled, something that really makes a difference in this hot, humid country. Eating and drinking are famously banned on the MRT. This minor inconvenience is credited with keeping the trains spotlessly clean.
Trains and subways aren't the only elements of Singapore's public transit system. About as many people ride the bus as take the trains each and every day. However, the city isn't resting on its laurels. Plans are underway to expand and increase the MRT's reliability in order to meet anticipated population growth. As a result, Singapore residents claim the highest rate of public transit satisfaction in the world at 86%.
Dubai
In the world of high tech public transit, Dubai is giving Singapore a serious run for its money. The city has developed a driverless, state-of-the-art, fully automated metro system – and just like Singapore, eating and drinking on the trains is banned in order to keep them spotlessly clean. Over the past ten years, Dubai has invested heavily in expanding and improving the metro. Further commitments have been made to grow the system to keep pace with the population and tourism industry.
In addition to the Dubai Metro, Dubai has close to 150 bus routes. In 2014, trams with Wi-Fi and dedicated wheelchair spaces were introduced. Finally, to get across the water, residents have a choice of ferries, modern water taxis, and old fashioned wooden abras, which are like a cross between a water taxi and a water bus.
Read: Moving Abroad to Dubai
Related: